Katie West works with naturally dyed textiles and installation, creating spaces that invite reflection on our roles as human beings within broad ecologies. Katie's practice began as an exploration of her family history, the Stolen Generations and healing practices.
This is an interview between Katie and Kyneton Contemporary Art Triennial Project Producer Elizabeth Barnett.
ElizabethI'm interested to learn more about your art practice.
KatieI make installations that mainly involve naturally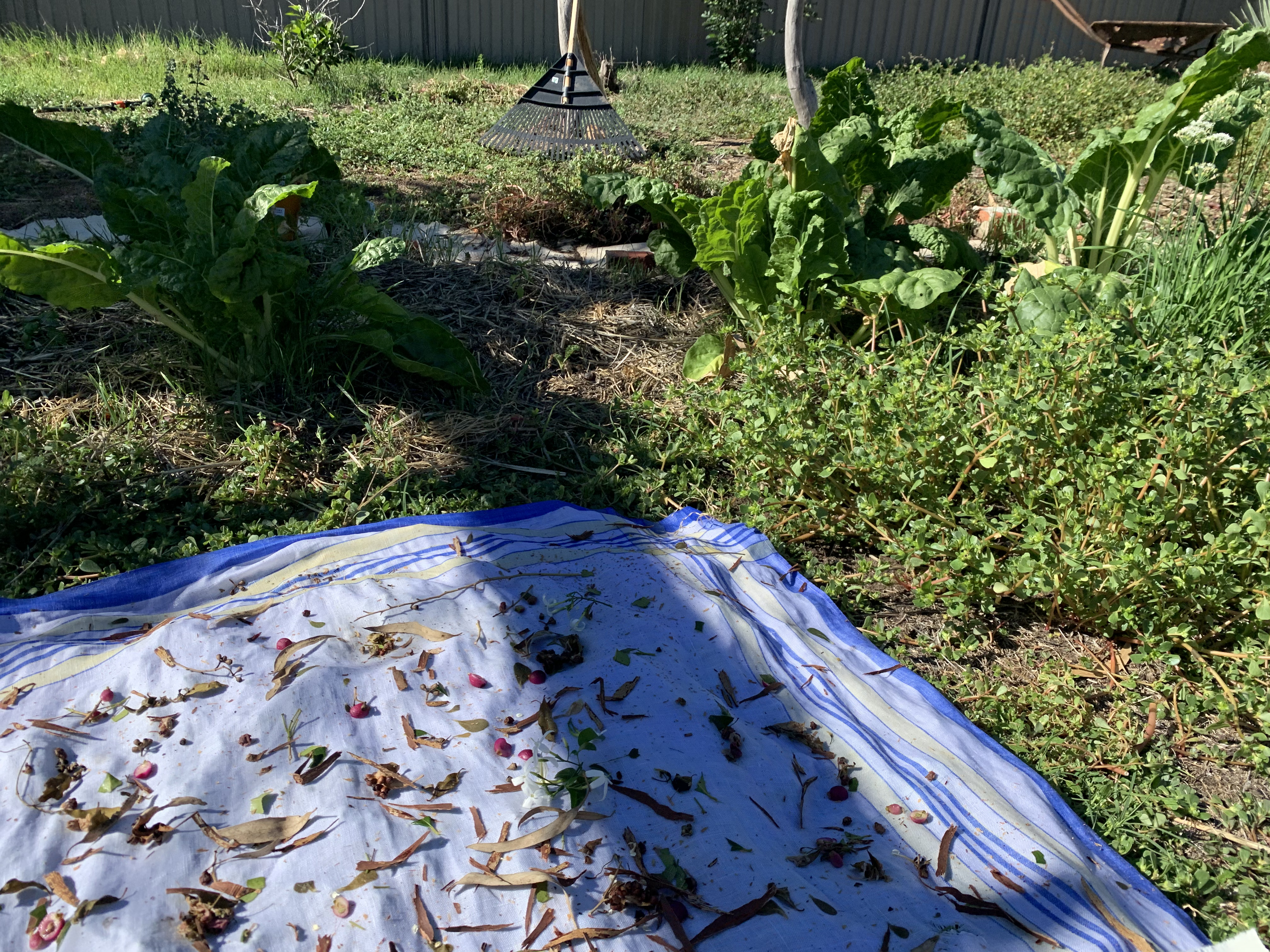 dyed textiles1, but more recently I'm starting to incorporate found fabrics in various colours and patterns. I'm very interested in sound and moving image and audience participation, social practice, or performance, with and through textiles. As for themes or ideas, I started my practice making sense of my family's Stolen Generations experience and questioning Australian national identity. Spending a little time working in Indigenous health influenced me to think about health and wellbeing within my practice, relating to my mental health and those who experience it or contribute through participatory works. I'm interested in how we story our connections to place and others we share space with and how the dynamics of these relationships change through time and with Country.
---
Natural dyeing by the veggie patch, 2020 ↩
EBWhere are you from and where are you currently residing?
KWI grew up in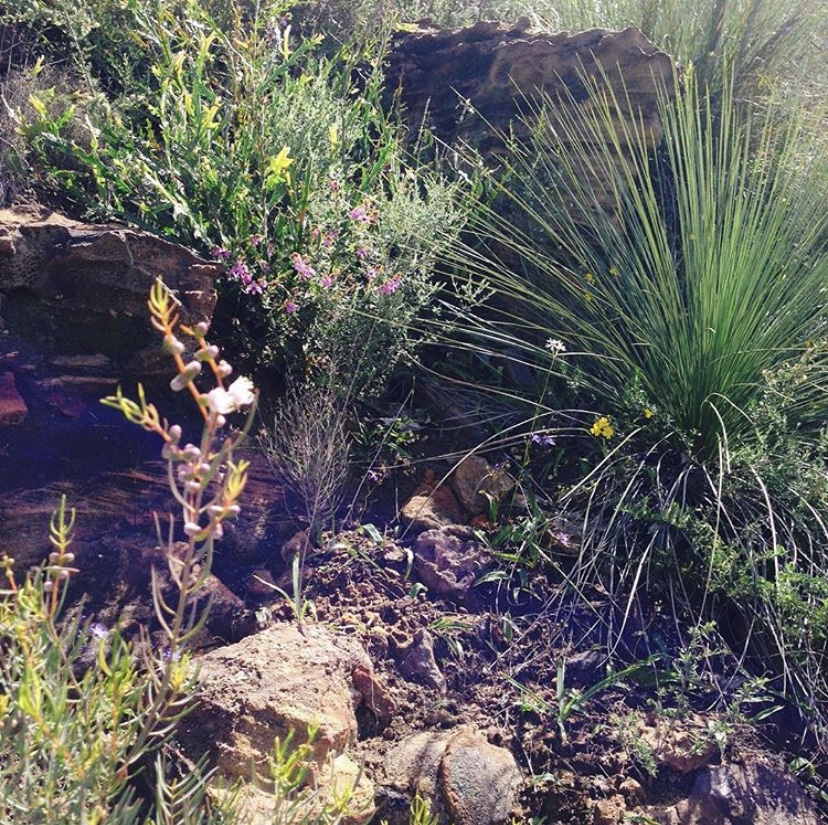 Noongar Yued and Whudjuk Country.1 First on a wheat and sheep farm just north of Perth, which later became an aquaculture farm specialising in fish, Silver Perch, which happens to be native to the Murray-Darling. I also feel like I'm from Fremantle because I went to highschool there and I lived there for many years. I identify as Yindjibarndi, and our country is in the
Pilbara2 region of WA. I'm currently living in York, a town east of Perth, in
Noongar Ballardong Country.3
EBWhen you visited Kyneton recently what really stood out to you?
KWIn Kyneton I spent most of my time in the botanic gardens. I spent a lot of time looking at the very large trees growing there, from different places across the planet.
I also visited Aunty Joanne Honeysett in Alexander at the Taungurung Land and Waters Council. Driving between Kyneton and Alexander, crossing
creeks and rivers1 and seeing how the country changes seemed like perfect preparation for a really lovely chat with Aunty Jo.
---
Lilli Pilli fruit and eucalyptus bark and leaves scattered on cotton tablecloth, 2020 ↩
EBI love how your work often incorporates natural dying, what are your favourite dye plants to work with?
KWI really love using puffball fungus when I can find some, but mainly I use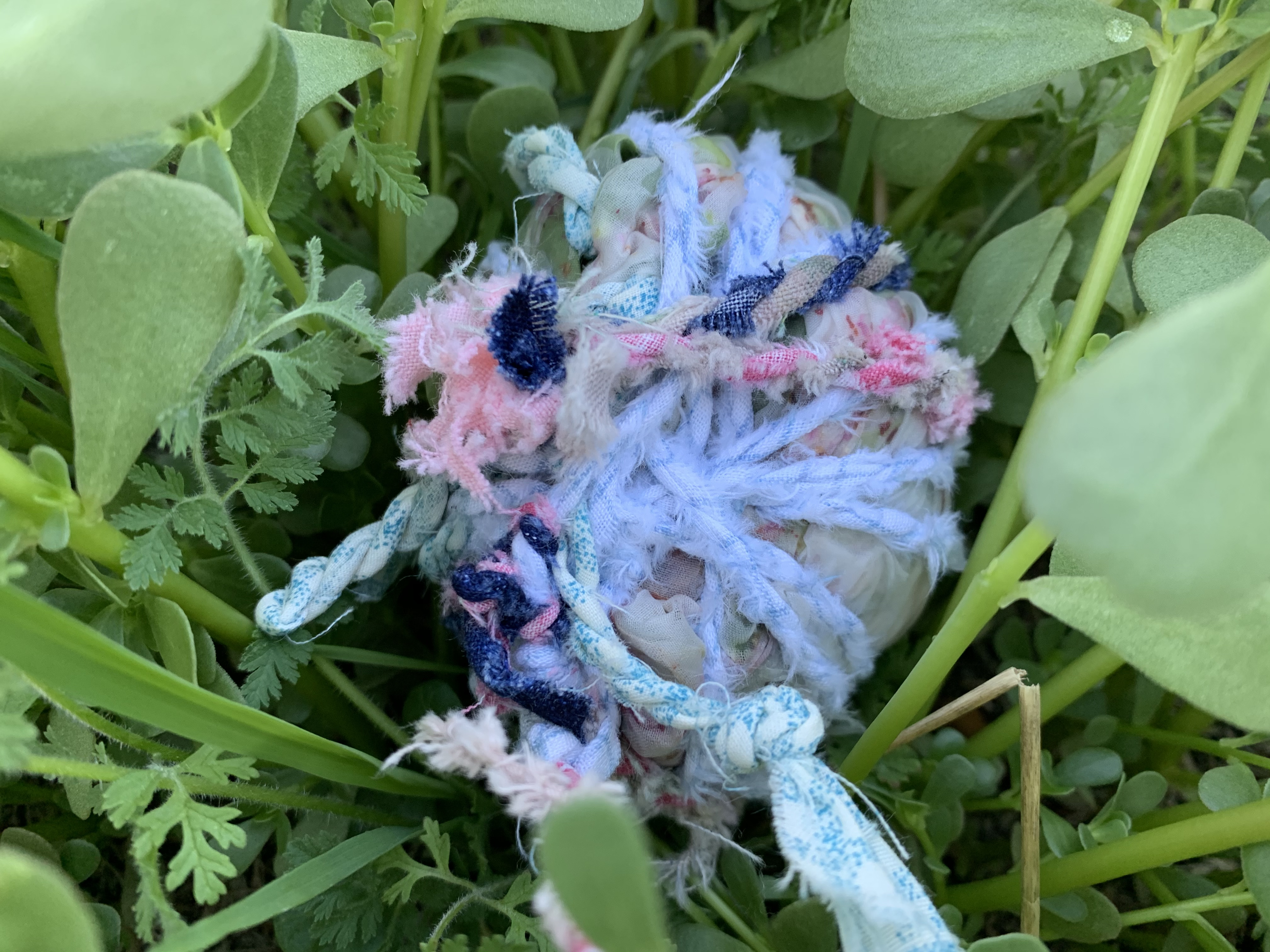 eucalyptus or Corymbia1, because this seems to be the most common dye plant in the urbanised places I tend to live. I love using corymbia or eucalyptus blossoms in particular for the marks and patterns they can make.
---
Dye bundle nestled in overgrown lawn, 2020 ↩