Sara Morawetz is a conceptual artist currently based in New Mexico whose interdisciplinary practice examines the systems and structures that measure experience, investigating concepts such as time and distance to explore their physical, emotional and exhaustive potential.
For Kyneton Contemporary Art Triennial Holding the Circle Morawetz is presenting two projects The Centre of Everything and ALL MY ANXIETIES. These distinct projects are connected through a conversation about isolation, absence, and the strange impact the last few years especially have had on our lived experiences, and sense of place and self.
The Centre of Everything consists of three markers mapped onto the town of Kyneton: a centre, an anti-centre and an edge. These three locations exist in relation to one another; for something to have a centre, it must have an edge (and vice versa). The three points were calculated using both geographical and population data drawn from the Australian Bureau of Statistics, weighing population density against Kyneton's own borders. The centre is the point upon which the weight of the town is balanced; the edge is a random position taken along the town's perimeter – representative of the last point one encounters when crossing into, or out of, Kyneton. The definition of these points also implies their opposite: a site located as far from the centre as it is from the edge. This anti-centre is a spatial inverse – a middle ground, an in-between.
You can find these signs at the following locations during Kyneton Contemporary Art Triennial: 3 Mair Street; Kyneton Mineral Springs Reserve, 200 Burton Ave; Govetts bridge, 539 Baynton Road.
ALL MY ANXIETIES is an ongoing personal periodical – a continuing performative action and emotional archive designed to catalogue the artists flaws, failings and insecurities one month at a time. Titles in the series include All My Failures, All My Petty Grievances, All My Unforced Errors and All My Minor Victories. For Kyneton Contemporary Art Triennial ALL MY ANXIETIES will be presented at the Kyneton Library.
Sara MorawetzSara Morawetz: I madeThe Centre of Everything remotely, familiarizing myself with the town of Kyneton using data and resources available online. In this sense, The Centre of Everything is an absurdist gesture, a site-specific response to a place that I have never been. The placement of these signs is at once carefully plotted using a mathematically devised system and parameters, and a playful interjection in the landscape. They reveal the divide between the map and the lived experience of a place, reflecting on the character and limitations of remote connections in a time of collective isolation: a humorous yet melancholy marker of distance.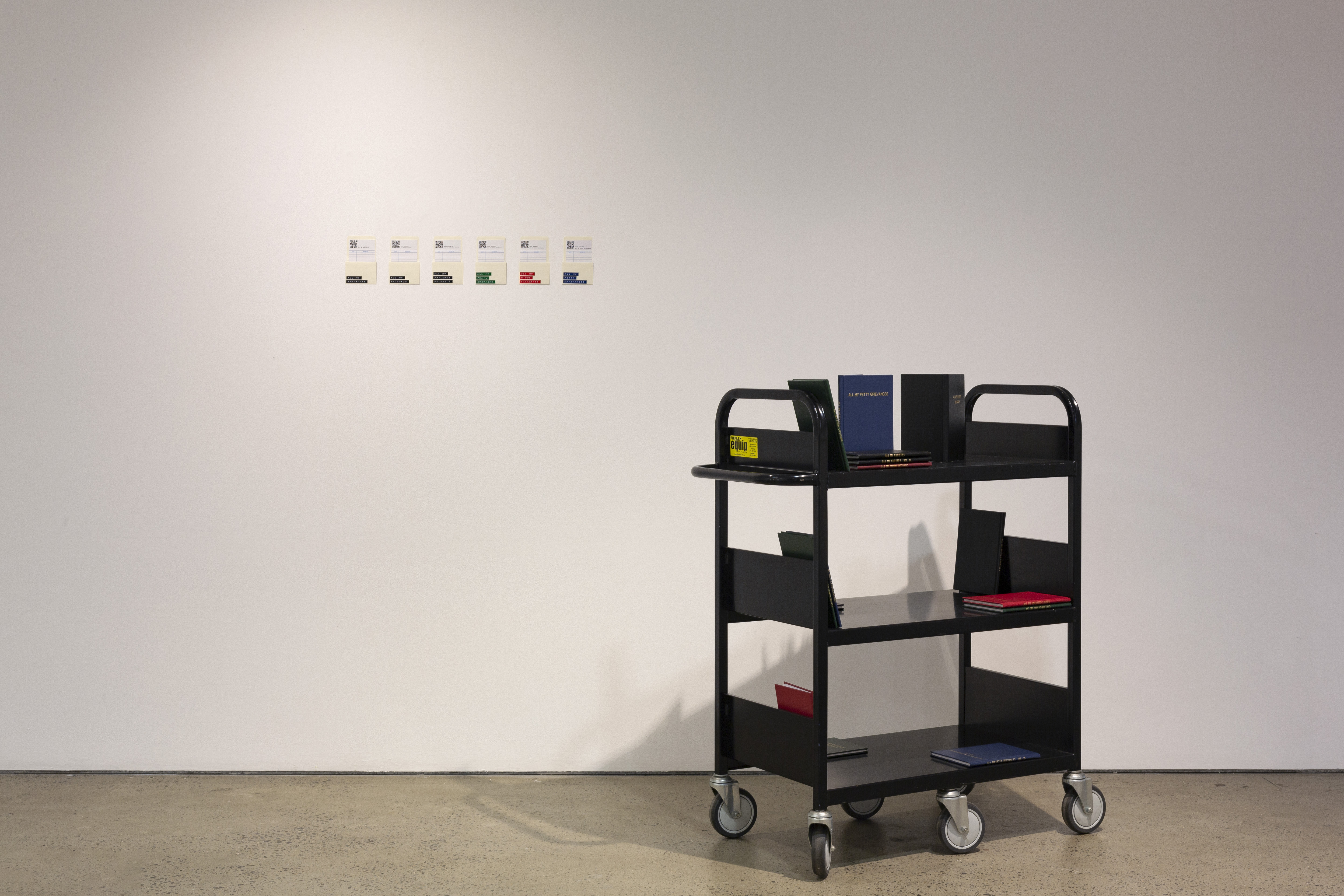 Sara MorawetzLibraries are a beautiful place for communities to gather and to understand both big works of literature but also personal experiences with each other… I wanted to put the books in this context because I really liked the idea that while the work itself is an archive of my emotional spaces, my anxieties, my flaws and failures I also feel that this is a shared experience, and there is a common emotional resonance we all have about how we think about these things. By putting them in the library context we get to see this exchange. Like oh I see a title of this book which is something I directly relate to and I borrow upon or I check out - both in the way that you can check out my experiences but you can also have a consideration of your own.
ALL MY ANXIETIES is a personal reflection of a very personal experience, but it is recorded in a rigorous fashion in which everything is archived and documented as if I were a scientist or it's in a scientific journal. I'm trying to archive these things with a date and time and be as truthful to the experience as I possibly can which is both terrifying and funny and confronting and emotional all in one. I try and find in my work that kind of meeting point where the scientific ideas of observation and experimentation meet with the actual act of doing and being in the world.
Click the play button on the image above to hear more about ALL MY ANXIETIES through a conversation between Sara and Kyneton local Miranda Johnson-Jones.
Miranda Jones-Johnson is a local Kyneton resident awarded the 2021 Macedon Ranges Young Citizen of the Year. She works passionately on a number of community projects. In 2020 she co-wrote and produced a video titled It's Time to Talk as part of a youth social awareness campaign regarding sexual assault. Miranda is co-host of the podcast Growing up Clueless providing fact-based advice about stigmatised issues young people face.